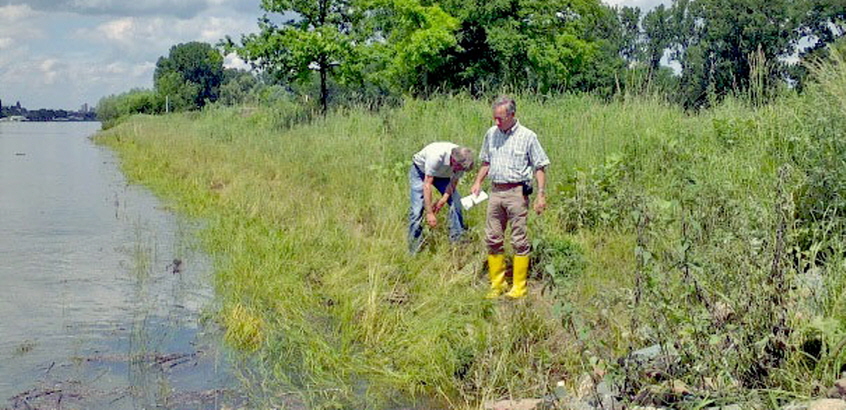 Photo: Per Danielsson, SGI
Natural erosion control measures better for the environment
28 March 2017, 15:23
Living close to a river might be desirable but it could leave you susceptible to the perils of erosion. Hard erosion control – using rock – represents a major intrusion into the natural landscape and to address this problem SGI has produced a report aimed at encouraging the use of natural erosion control measures as an alternative.
Erosion is a natural process that generates beneficial conditions and habitats for many valuable and endangered species but could also pose a threat to the infrastructure along the watercourses. In many cases, erosion is traditionally counteracted with what is termed rip-rap – the use of rock and other material to protect the shoreline. Unfortunately, hard protection frequently entails a substantial intrusion into the natural landscape.
Natural erosion control can often be used to solve the problem of erosion and at the same time promote biodiversity and meet ecological goals along our shorelines. At present, there are more than 270 red-listed species associated with shorelines. Birds build nests in screes; fish are protected by plants along riverbanks; insects, mosses, lichens and other organisms enhance the biodiversity of our lakes and rivers.
A source of inspiration
SGI has produced a document that is intended to urge local authorities, county councils, government agencies and consulting companies to begin using natural erosion control along shorelines where measures to counteract erosion are deemed necessary.
Apart from describing various types of bank erosion control, the document presents a method that can be employed during the planning stage. It is crucial to take account of the entire run-off area of a watercourse when deciding on measures to mitigate erosion along a certain stretch. This often involves striking a balance between societal interests and ecological values. It is also important to highlight erosion problems at the planning stage and not build too close to the water's edge.
The report is the outcome of work conducted jointly by the Swedish Agency for Marine and Water Management, the Swedish Environmental Protection Agency and the Swedish Transport Administration.
Download the publication Nature-friendly bank protection in rivers. A prestudy (the report is in Swedish, but has an English summary)
Page was updated 2017-03-28